Four-axis-linkage turning-milling composite machine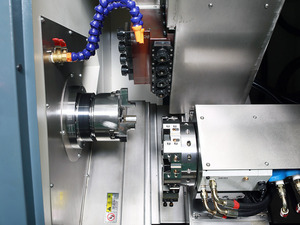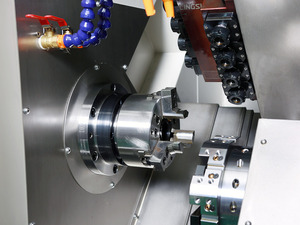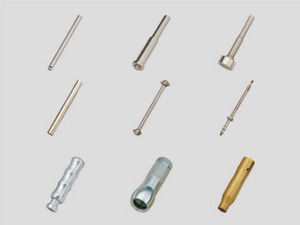 Features:
The machine frame features a proven,rigid 45°integral slant bed construction casted by premium resin sand cast-iron to ensure maximum rigidity and easy chip removal.
Adopt Germany-FAG/Japan-NSK P4 level imported high precision spindle special bearings to ensure optimum turning results,even at high axial and radial loads.
High-performance preloaded ball screws are quipped with precision bearings to ensure sustained,smooth,vibration-free operation.
An automatic lubrication system maintains optimum tool temperature for long tool life,reduces the operator's workload and simplifies maintenance.
The workspace is enclosed on all sides with easy access through a large sliding door for set-up,tooling and unloading.
Y axis and 8-station tool turret with driven tools expand the performance spectrum by allowing cost-effective complete machining of complex parts.
Fixed high-speed end face or side face driven tool with power motor can allow for the production of complex parts.
PT46/52/56D(Y-X)Four-axis-linkage turning-milling composite machine
Item

Unit

PT46 (Y-X)

PT52 (Y-X)

PT56 (Y-X)

Max. swing dia. over bed

mm

560

560

560

Max. swing dia. over slide

mm

110

110

110

最大加工直径

mm

50

50

50

Max. cutting length

mm

100

100

100

Travel

X axis travel

mm

950

950

950

Z axis travel

mm

400

400

400

spindle

Spindle end type

/

A2-5

A2-6

A2-5

Spindle bore

mm

56

62

66

Max. bar through dia.

mm

46

52

56

Spindle motor power

Kw

5.5

5.5

5.5

max. Spindle speed

r/min

5000

4000

4000

Spindle Bearings

/

Germany-FAG/Japan-NSK

Germany-FAG/Japan-NSK

Germany-FAG/Japan-NSK

Feed

Repeat positioning accuracy(X/Z)

mm

0.005

0.005

0.005

X/Z axis rapid feed

m/min

30

30

30

X/Z axis ball screw

/

Taiwan-PMI/HIWIN C3 level

Taiwan-PMI/HIWIN C3 level

Taiwan-PMI/HIWIN C3 level

X/Z axis guideway

/

Taiwan-PMI/HIWIN P level

Taiwan-PMI/HIWIN P level

Taiwan-PMI/HIWIN P level

X/Z axis ball screw bearing

/

Japan

Japan

Japan

X/Z axis motor&driver

/

Japan-YASKAWA/FANUC

Japan-YASKAWA/FANUC

Japan-YASKAWA/FANUC

Tool

post

Tool post type

/

Driven tool+Gang tool

Driven tool+Gang tool

Driven tool+Gang tool

Max.Tool qty

/

Y-axis driven tool+8-station tool turret/6-station gang tool

Y-axis driven tool+8-station tool turret/6-station gang tool

Y-axis driven tool+8-station tool turret/6-station gang tool

Others

Brakes

/

Floating brakes

Floating brakes

Floating brakes

CNC controller

/

Taiwan-Syntec/LNC Japan-FANUC

Taiwan-Syntec/LNC Japan-FANUC

Taiwan-Syntec/LNC Japan-FANUC

total connected load

KVA

13.6

15.6

15.6

Dimensions(L*W*H)

mm

2000×1500×1850

2000×1500×1850

2000×1500×1850

weight

T

3.2

3.3

3.3
Standard Configuration:

1.coolant system
2.Automatic central lubrication system
3.Hydraulic unit
4.Collet
5.Fully sealed protective enclosure
6.chip bucket
Optional configuration:
1.Automatic bar feeder
2.Automatic bar receiver
3.Automatic chip conveyor&chip bucket
4.Hydraulic chuck
5.Automatically opening and closing door
6.Electric cabinet coolant system